AstroTurf
There are many reasons why AstroTurf has earned the front-runner place in the synthetic turf industry, and those same factors are what drives the ongoing partnership Symmetry chooses to foster with them.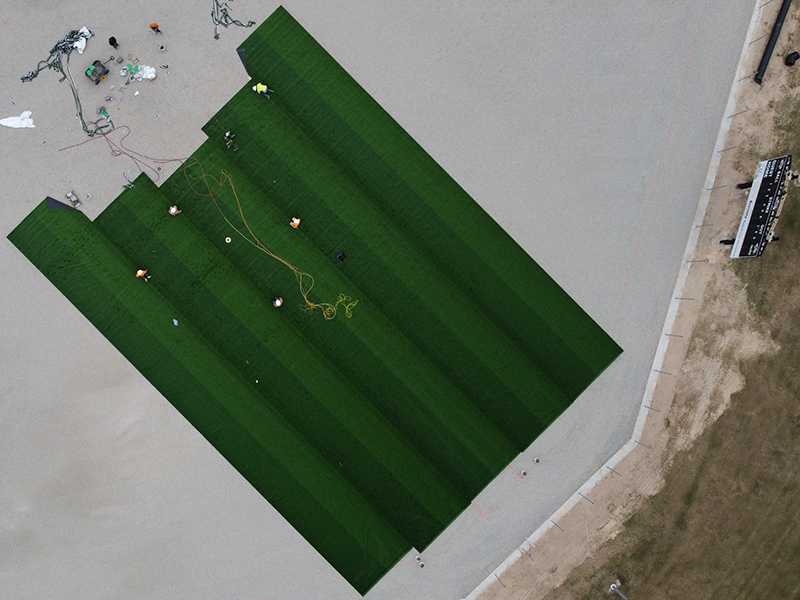 Safety
---
Player protection is priority number one. That's why AstroTurf's research and development engineers rigorously test each athletic turf system before it goes to market.
Product Variety
---
Differentiated system designs from AstroTurf stem from 50 years of striving to create products that perform like natural grass. This dedication to innovation has resulted in AstroTurf offering the broadest portfolio of turf system options in the world.
"More Fiber, Less Fill"
---
This design approach encourages the client to invest most in the crucial element of the turf system which is fiber. This also contributes to a system's longevity. After all, you don't have to replace an artificial turf field because the commodity sand and rubber infill is worn out, but rather when the fiber wears out.
Quality Control
---
With half a century in business, AstroTurf presents with a great deal of cumulative experience– decades of triumphs and pitfalls– which informs material selection and the manufacturing process. That means industry-best components and total control throughout every step of manufacturing.
Warranty
---
AstroTurf offers a strong warranty for 8 to 10 years, and when you work with Symmetry, we work to make maintenance simple and accessible.
Eco-Conscious Business Practices
---
AstroTurf is committed to protecting the environment. Each AstroTurf field can save up to 20,000,000 gallons of water, without the use of pesticides, herbicides, or any other chemicals. AstroTurf products are also available with BioCel™ coatings to lock fibers in place. Some turf systems they manufacture even incorporate the use of recycled water bottles from Grand Teton and Yellowstone National Parks.
Incredible Value
---
When you go with AstroTurf, you might not always be getting the cheapest option on the frontend, but the cost of the system over time is significantly lower. You're also reaping all the benefits outlined above from intelligent design to playability and safety to a stellar warranty on overall performance.
Work with Symmetry for your AstroTurf field today, and see the many benefits of this top-notch product in action.
"Working with Symmetry Sports was fun. They met every request with a can-do attitude. Delivered what they said they would within budget and on time!"
— Kevin Hurley, Senior Associate Athletic Director, Texas A&M University
"Symmetry did a great job on our field. Their professionalism was above any competitive company that we considered."
— Mike Wheeler, Athletic Director, Dallas Christian High School
"Symmetry Sports attention to detail and drive to excel throughout all four of our athletic facility projects redeemed our past experiences with other companies. Symmetry Sports exceeded our expectations."
— Dr. Blair Blackburn, President, East Texas Baptist University