Services
TURNKEY SOLUTIONS FOR SPORTS CONSTRUCTION
Symmetry Sports Construction offers turnkey solutions in the realm of general sports construction. We're committed to excellence in all we do, and we seek to develop lasting relationships with our clients. Symmetry is not in the business to win a single job and move on. We are working to earn your trust and business as we want you as a customer for life.
At Symmetry we have 7 Proverbs we strive to live by. Our #1 proverb is to "Deliver On Our Promises". That is our promise to you that we will strive to deliver on time with the quality and service you expect and deserve on every job.
Track Construction
When you're looking to have a track installed at your school or facility, there are many factors that come into play. This is a highly specialized job, and you'll want to work with a team that has the expertise necessary to plan and execute a quality installation. At Symmetry, we are proud to offer solutions in track construction for a variety of client types.
Symmetry recommends the Rekortan line of running track systems developed by APT, owned by Sport Group, as the industry leaders in high quality, performance-enhancing systems that result in unmatched results for the lifecycle of your track.
Our track specialists install base mats to full pour systems with custom color options. One of the most popular new features to track systems is alternating exchange zone colors to really make your track stand out. Symmetry has chosen to partner with APT for our track products as we believe they provide the highest quality product on the market today with the most durable and high performing track systems.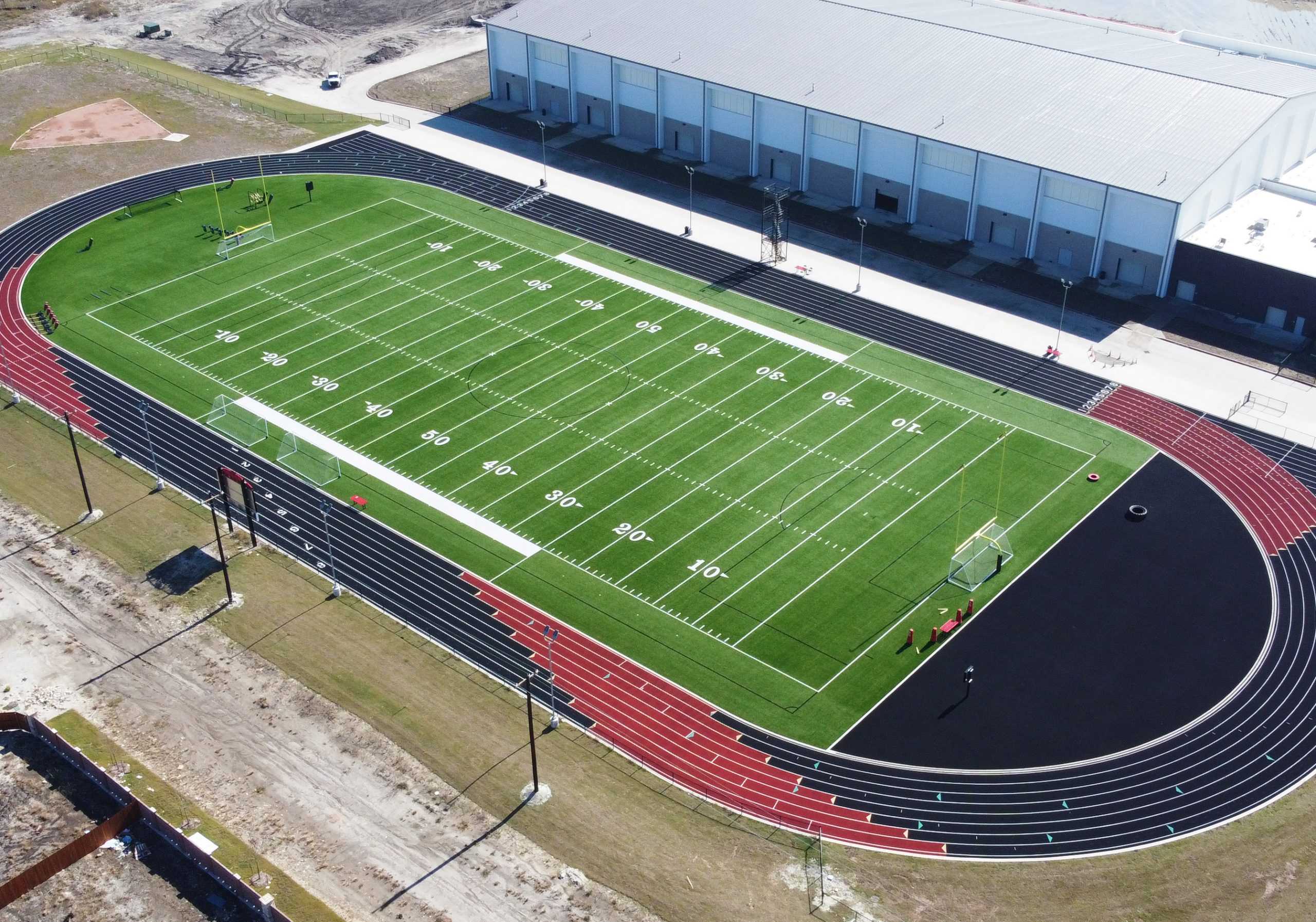 Natural Grass Fields
Natural Grass is a growing area of our business and we have brought in natural grass experts to join the Symmetry team who understand the challenges involved with installing and maintaining grass fields. Two of our experts are certified field builders with one specializing in both synthetic and natural grass installations. Our team operates with specialized equipment allowing massive amounts of dirt to be moved and graded when building natural grass fields. Due to the specialists on our team, we can assist in the design build of your water system to ensure your natural grass will hold the test of time after our installation is complete. If a natural grass field makes the most sense for your specific venue and application, Symmetry can help you to bring that project to life.
Synthetic Field Construction
The Right AstroTurf System for Every Venue
With the wide selection of synthetic turf systems– no matter the venue or sport– Symmetry has a viable solution.
AstroTurf's premium turf system series boasts heavy face weights for the best the industry has to offer in aesthetics, durability, and player protection. These systems are driven by the latest research, and technology pushing the industry towards the most grass-like surfaces available.
Our sales team will be able to evaluate your system needs and preferences and help to identify the best system for your specific application. We have become experts in the industry with over 12 years of experience in sports construction. The most important component to understand is that you are not simply purchasing "turf." You are purchasing a turf system. There are multiple components to properly build a turf system which require a great amount of expertise. Symmetry has the knowledge and experience to help you make the best product decision for your sports construction needs with the ability to properly build the system you have in mind.
Stadium Construction
In every sense of the word, Symmetry is a one-stop shop for all things sports construction. We are a true turn-key construction company owned and operated by seasoned professionals who care. From ground-up stadium construction to total lifecycle planning, we provide custom construction solutions through all stages of your projects. 
Tennis Court Construction
To ensure that our customers are playing on the best tennis courts available, we've partnered with APT to provide Laykold court surfacing systems. Laykold offers a variety of impact reducing, performance enhancing court systems that are of the highest quality in the industry. Learn more about why Laykold is the top choice for tennis court construction, and contact us to get started on your tennis court project today.
Service + Maintenance
Symmetry Sports is here to support you throughout the entire lifecycle of your sports construction projects from conception to intermittent servicing when needed. We provide maintenance services and support for all sports surfaces, helping you protect your investment and extend the life of your synthetic turf, track or tennis court through education, performance testing, and maintenance services. It's important to us that each customer gets the most out of their sports surfaces, that peak performance, safety, and ease of maintenance are a part of the customer experience. That is our ongoing commitment to you.
Call us today at 903-560-8070 to speak with one of our maintenance experts. We would love to take care of you.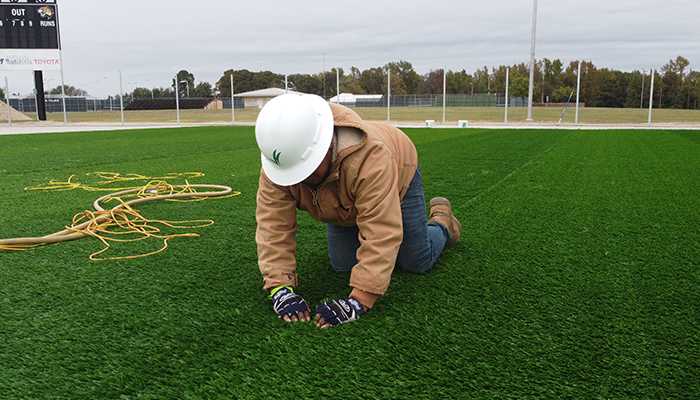 Stadium Lighting
Symmetry also provides lighting services. Take advantage of the energy efficiency and cost savings by converting to LED lighting. According to the US Department of Energy, light-emitting diodes (LED) are six to seven times more energy efficient than conventional light bulbs and cut energy use by more than 80 percent. LED light bulbs can also last 25,000 hours or more, which is 25 times longer than traditional bulbs. You can see why LED lighting makes financial sense!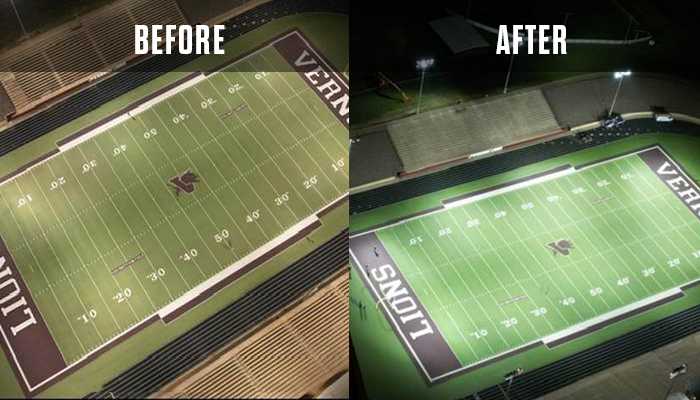 Surface Maintenance + Repair
All sports systems involve some component of maintenance to ensure your surface is performing properly and will withstand the test of time. Many of our synthetic fields undergo annual field maintenance and bacterial and COVID killing sprays. This is particularly important for athletes who will be using indoor facilities as they do not receive sunlight which aids in killing bacteria. If you would like to have a free maintenance or field/surface evaluation, please email us at [email protected].
SPORTS SURFACE MAINTENANCE INCLUDES:
COVID + Bacterial Killer Sprays:

Antimicrobial Treatments

Turf Repairs:

Seams, Inlays

Grooming:

Sweeping, Infill Top Dressing

Performance Testing:

Field Longevity Testing, Safety Testing, Impact Testing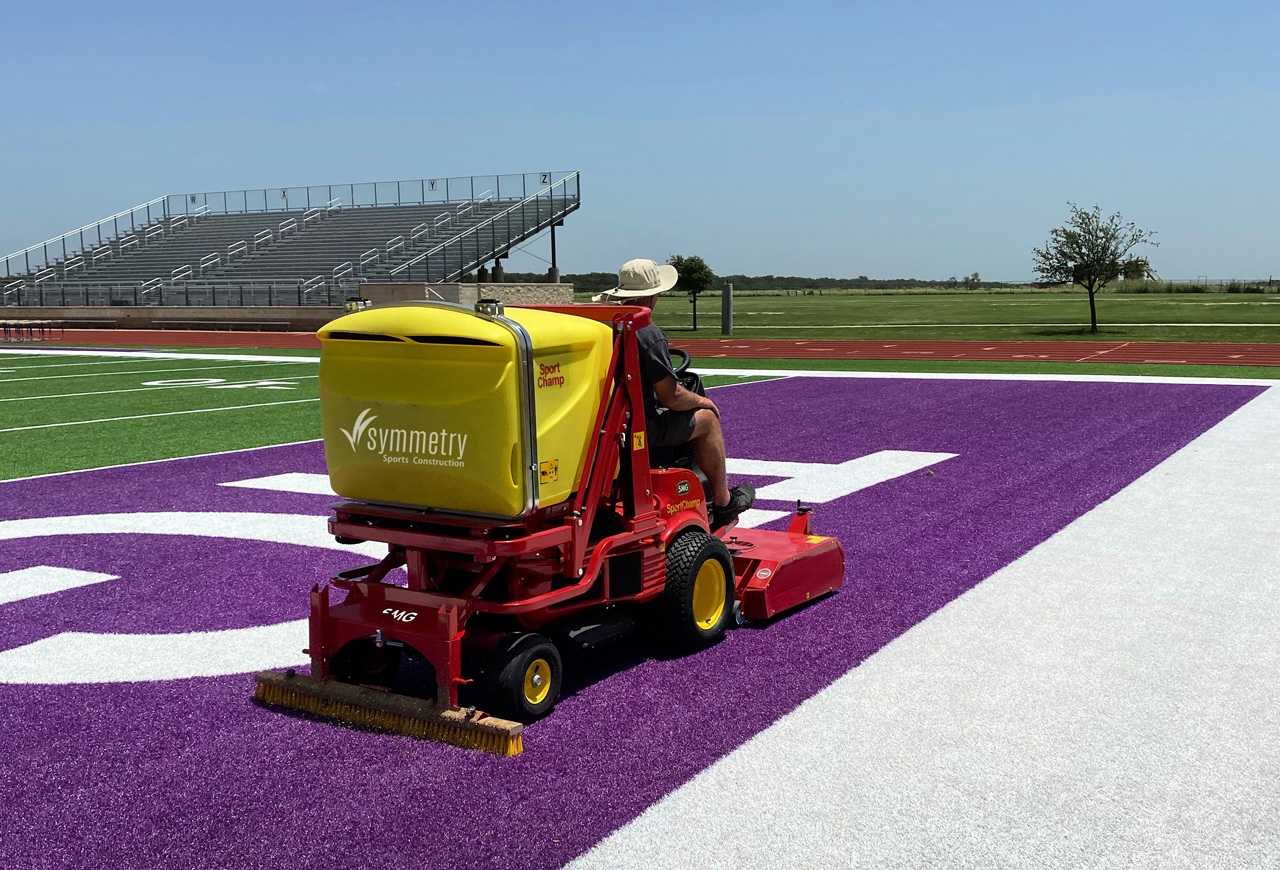 "Hudson ISD chose Symmetry Sports to install the highest quality product on the market. We love our product and this professional, honest, and dependable company."
— Donny Webb, Superintendent, Hudson ISD
"Symmetry was a great partner through the entire process and we would be happy to work with them again."
— Dr. Greg Bradley, Deputy Superintendent, Prosper ISD
"Symmetry is an outstanding company that takes pride in their work and in their customer's experience. They are committed to finishing the job in a timely manner and no detail is too small."
— Jake Fieszel, Athletic Director, Gunter ISD